MV LADY VICTORIA Restoration Project LLC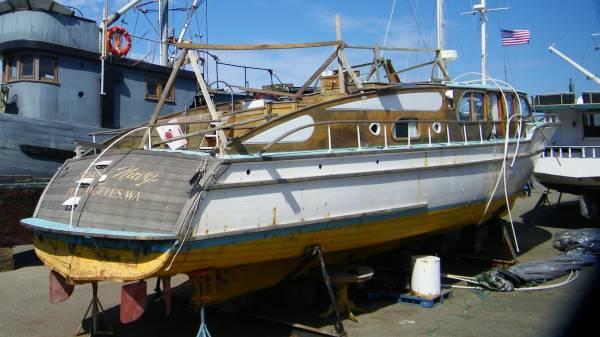 Our goal is very simple to restore MV Lady Victoria (Ex MV "Periwinkle") as close to her original glory as practical when built in 1950.
MV Periwinkle design and construction was a collaboration of Ed Monk Sr and Shane Trimmership Manufacturing Company Seattle in 1950.
We intend to restore her as close to her original glory and quality of workmanship as practical but incorporating modern materials, paint, systems to ABYC, new equipment especially developed for the yacht building industry today but not available in 1950.
MV Lady Victoria is a complete restoration project from the Keel Up by Master Shipwright Alan Hollison includes new hull bottom floors structures, bottom refastening, bottom caulking, all systems removed and replaced, interior and exterior refinished, equipment etc.
Note: Structurally the yacht (Hull and Superstructure) is in very good solid condition and a great restoration project. Cabinetry and Equipment removed, cleaned and stored. MV Lady Victoria has been housed in a in water Boathouse for approximately sixty (60) years